Worldwide Support
Over 25 distributors and support centres worldwide
Flexible maintenance contracts
Tailor made plant specific contracts with 24Hr Support
30 years experience
Developing, manufacturing and installing
Why Measure Flue Gas Velocity?
Many industrial processes release flue gases to the atmosphere. Under European Directives the majority of those are classed as emission sources and therefore require continuous emission monitoring.
European standards for monitoring pollutants and flow for CEMS (Continuous Emission Monitoring Systems) are already in place and other countries usually follow them to some extent.
The CODEL VCEM5100 was one of the very first volumetric flow meters that received the TUV QAL 1 Certificate. Consequently, CODEL's flow sensors are successfully used in a number of CEMS in Europe and other parts of the world in order to monitor mass flow emissions.
Flow sensors for emission monitoring systems must meet certain certification standard, however, the application itself is not very challenging, as it is taking place on clean gas, that has passed all the abatement stages at relatively low temperatures.
Process measurement, however, can be much more demanding, where high dust load levels and/or corrosive gases are present.
The infrared correlation technique employed in the VCEM5100 to measure time of flight, gives a truly non-contact measuring technique. This combined with zero moving parts means the VCEM5100 is essentially maintenance free.
Thanks to the non-contact measuring principle the VCEM5100 can operate in the harshest of conditions, including very high dust loaded gas, and flue gas temperatures in excess of 1000 °C. Likely examples of such conditions would be flow measurement of raw gas, SCR inlet/outlet, FGD inlet, turbulent flow directly of diesel engine or electric arc furnace where other technologies would find it difficult to work for long periods of time in these conditions.
Click here to find out more about CODEL's VCEM5100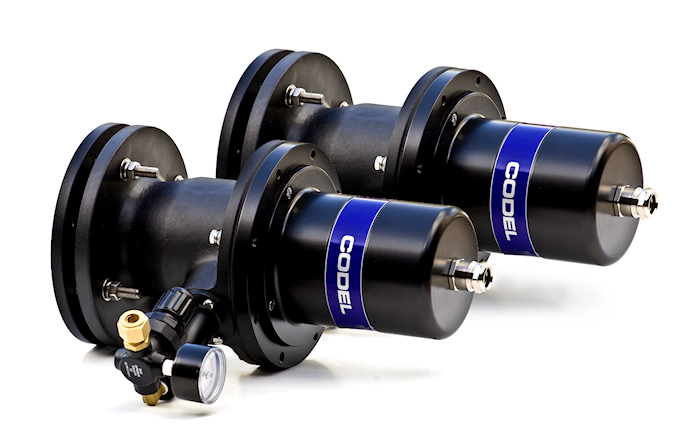 For further information on any of our products, please complete our enquiry form and a member of staff will respond as soon as possible.
You can also call: +44(0)1629 814351