Worldwide Support
Over 25 distributors and support centres worldwide
Flexible maintenance contracts
Tailor made plant specific contracts with 24Hr Support
30 years experience
Developing, manufacturing and installing
TunnelTech 305 Series – NEW Single Point Air Flow Monitor – Coming Soon!
Codel International's new TunnelTech 305 Series designed exclusively for road and rail tunnel applications is an essential part of any road or rail tunnel safety system.
The TunnelTech 305 not only monitors the air flow measurement inside the tunnel it also monitors the direction of the air flow. This ensures that the tunnel ventilation system provides enough clean air to protect the health of tunnel users as well as enabling drivers to clearly see the road ahead.
The Air Flow Monitor uses dual path ultrasonic technology to ensure high accuracy over a wide measurement range and, with no moving parts, results in extremely high reliability levels and very low maintenance requirements.
The sensor is constructed using stainless steel for ultimate protection against the harsh environments found in tunnels.
Fully configurable analogue and alarm outputs are provided. An RS485 link can be utilised to deliver data via MODBUS protocol to a SCADA system located in the tunnel control centre.
The monitor has no measurement drift, is unaffected by ambient temperature changes, easy to calibrate and install with no alignment required.
The TunnelTech 305 has been extensively tested in the UK over a six-month period proving its outstanding accuracy and stability and will be launched into the marketplace over the coming months.
Two decades of development, knowledge and experience with ultrasonic technology have been utilised to produce the TunnelTech 305 Series. The result is an Air Flow Monitor that delivers superb accuracy, a wide measurement range and a fast response time at a competitive price.
To stay updated visit www.codel.co.uk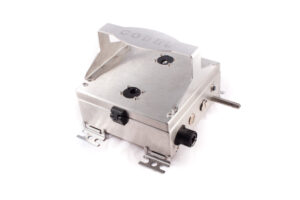 For further information on any of our products, please complete our enquiry form and a member of staff will respond as soon as possible.
You can also call: +44(0)1629 814351