Worldwide Support
Over 25 distributors and support centres worldwide
Flexible maintenance contracts
Tailor made plant specific contracts with 24Hr Support
30 years experience
Developing, manufacturing and installing
Are You Using Bag Filters to Control Dust Emissions?
Power plants, cement plants, steel plants, smelters, asphalt plants, incinerators, food manufacturers, chemical producers, pharmaceutical producers, and other industrial companies are widely using bag filters to control Dust Emission. On some applications bag filters are also used to capture other product coming out of mills, for example, cement, coal, and other raw materials.
Fabric filters, without doubt, are an extremely efficient pollution control device with the ability to capture 99% plus of dust collected from process gas but with one drawback, they are prone to leaks.
Ongoing performance can easily be achieved by periodic filter bag replacement, as well as filter inspection and monitoring. The optimum timing for a filter bag replacement is one that maximizes the length of a bags use, but one that takes place before a significant leak event occurs which could then result in exceeding emission limits and in turn causing the process to stop.
An accurate prediction for bag replacement can be achieved with the aid of a continuous leak detection system. The advantage of this being that the replacement or maintenance of a bag filter can be routinely planned rather than having to stop a process because of the immediate necessity to replace a filter bag. This can result in significant cost-savings particularly when capturing product.
CODEL's ET301 Triboelectric Sensor, has been successfully applied to a number of bag filter leak detection applications. One example is of six ET 301's installed on 6 modules of semi-dry NIDTM FGD. Each module consists of an FGD reactor and fabric filter, as a final pollution control device. Outlet ducts from the six FGD modules merge into one duct before entering the stack.
Codel ET 301 sensors are fitted on the outlet from each module, allowing independent monitoring of the bag filters, enabling operators to schedule maintenance more effectively and isolate leaking bags without stopping the plant.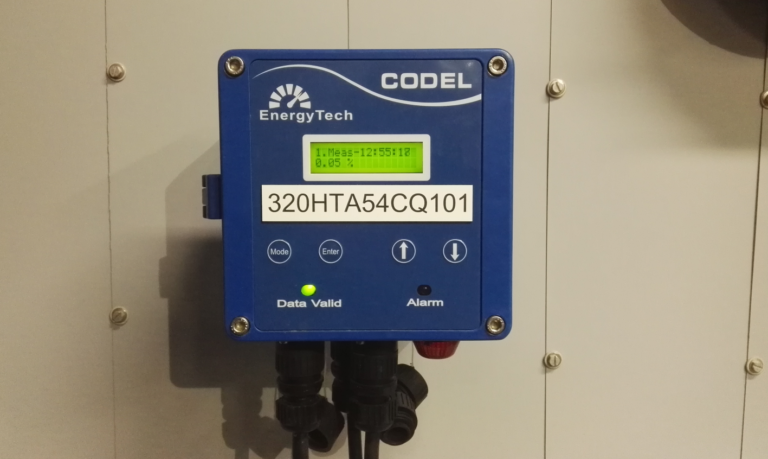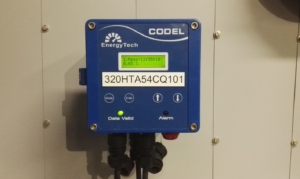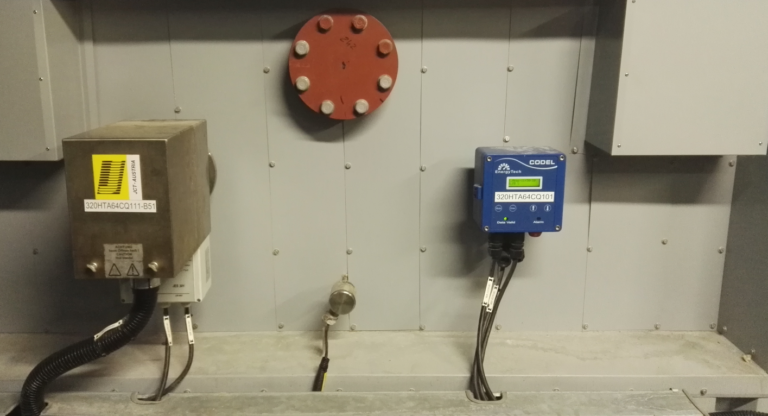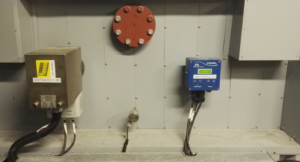 What are the main features of the ET 301 leak detection sensor?
Capable of detecting the smallest levels of dust, below 0.1mg/m3
Capable of detecting particulates in a size range of 0.1 to 100µm
Fast response time
Easy networking for multi compartments and modular arrangements. RS 485 MODBUS and 4-20A output.
Minimum maintenance requirement
Simple installation, no alignment required
No optical surfaces, purge air not required
No interference with other measurements       
What are the customer benefits?
Prevents loss of product on some applications. Post mill location, the bag filter is used to capture product.
On multi-compartment bag filters our modular arrangement allows for the leaking part of the bag house, or leaking module to be identified.
When the ET301 output data is correlated with the fabric filter cleaning routine data it can be used to identify a leaking row in the bag house.
Helps to extend operation lifetime of bag filters safely. Manufacturers of bag filters recommend a bag replacement approximately every 1.5 years. However, close monitoring of the bag filter can extend this lifespan safely which results in reduced maintenance.
Allows for a reduction in visual inspection of the filter frequency.
Click here if you would like more information on CODEL's ET301
For further information on any of our products, please complete our enquiry form and a member of staff will respond as soon as possible.
You can also call: +44(0)1629 814351