Worldwide Support
Over 25 distributors and support centres worldwide
Flexible maintenance contracts
Tailor made plant specific contracts with 24Hr Support
30 years experience
Developing, manufacturing and installing
Tips on Installing a Tribo-Electric Dust Monitor
There are a number of factors to consider when selecting the position to install a sensor unit. These are listed below, in order of importance:
Are there any legal safety constraints that might restricts its location? For indicative monitors this is unlikely, but it is worth checking.
The probe must protrude more than halfway into the duct to ensure good sensitivity.
Choose a location where there is an unrestricted flow path and where the probe is within the main flow of dust. Ideally, the unit should be 5 duct diameters upstream (or downstream) from any obstruction such as a bend, fan, damper, duct exit or pipe junction.
The dust monitor should be where an operator can occasionally gain easy access.
The unit should not be where damage from passing objects may occur and should be close to steam traps or other sources of extreme heat.
The sensor should not be on the bottom of a horizontal duct because dust and debris will soon accumulate around the base of the probe, leading to bridging.
The sensor should be at least 1m upstream from any isokinetic sampling ports if possible.
If the dust level display is regularly viewed to confirm acceptable levels, install the display unit where it is easily seen by plant operators. If this is not possible, we recommend fitting a remote display unit at a more convenient location. (Would you climb a 60m-high stack every day to look at a dust monitor readout?)
Avoid mounting the sensor on a vertical duct that vents to atmosphere as rain can affect results.
Tribo-Electric Technology can be used for installation on a wide range of processes where bag filters are used for emissions reduction.
Click here for more information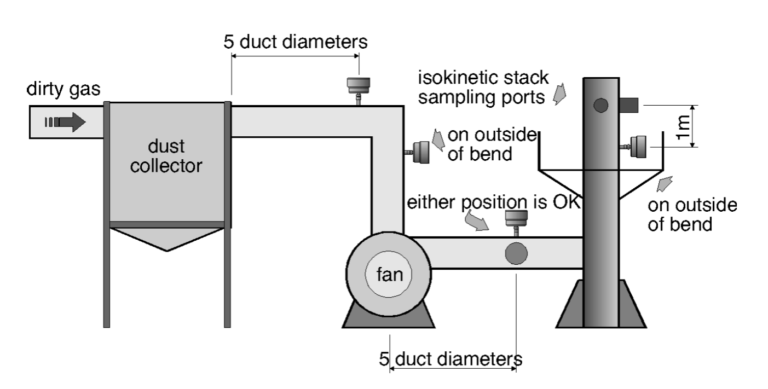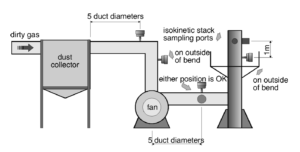 For further information on any of our products, please complete our enquiry form and a member of staff will respond as soon as possible.
You can also call: +44(0)1629 814351